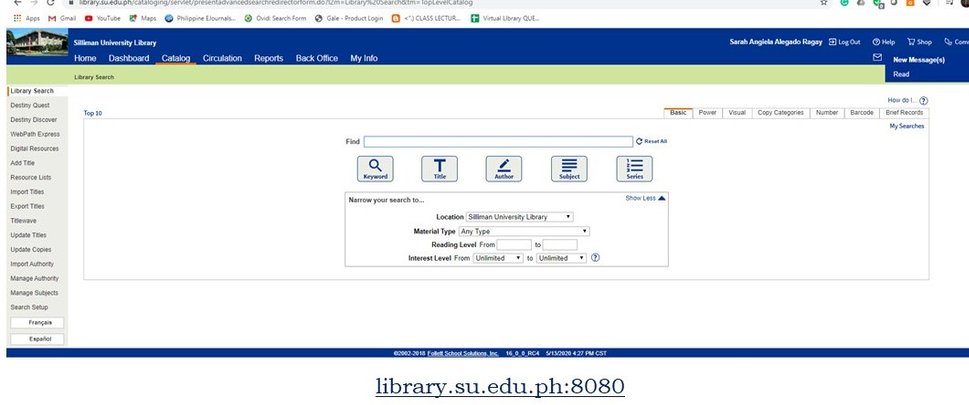 Facility, Gadget, Appointment
Online Book Reservation for Borrowing
A faculty or student may borrow books in the main library by messaging or chatting the library to request a book. The following steps have to be considered:1. Log-in to the Follett's Destiny Library Manager using username and password. 2. Those who don't have username and password may message us.
3. Key-in in the search box the author/title/subject/keyword.
4. Once titles are retrieved, choose the title/s that you wish to borrow and click on the "Hold It"
button to put it on reserve.
5. Parents or guardians of students below 15 years old are allowed to pick up books at the library.
(Section 3 of IATF Guidelines on areas under MGCQ)
6. Present student's ID and enrollment form/slip.
7. Renewal of books may be done online.
Book Return through Book Drop
How to return the books borrowed?
Bring the book/s on or before the due date.

A box is provided outside the library. Drop the book slowly into it.

Wait for a notification email from the Circulation Librarian for clearance.
Renewal of books can be done physically going to the library or through online.
Online renewal:
E-mail the Circulation Librarian with the titles of the books you wish to renew to avoid penalty.

Provide the complete bibliographic information: Call Number, Author, Title, and Copyright Date.

Wait for confirmation through a reply from your e-mail.
Physical renewal:
Bring in the book/s with you for renewal to the library.

Present the book/s for renewal to the Circulation Librarian.

Take note of the next due date of the book/s to avoid penalty.
Online Public Access Catalog
Search our Library Collection