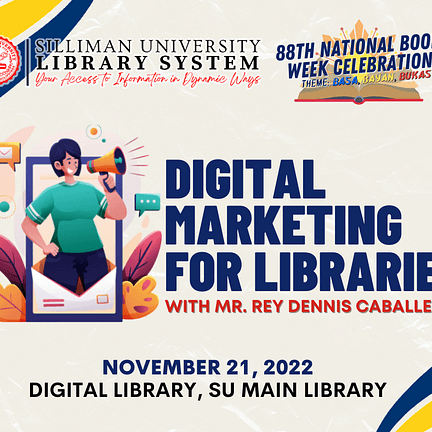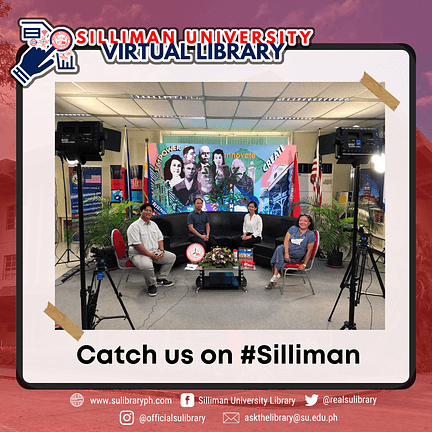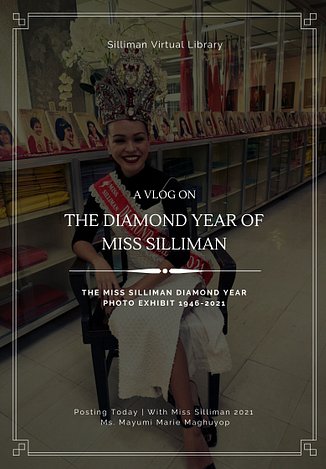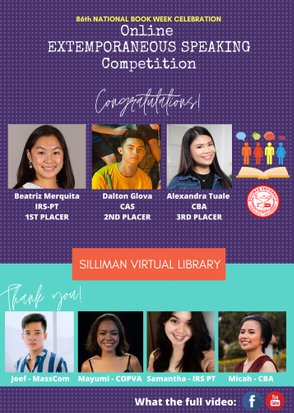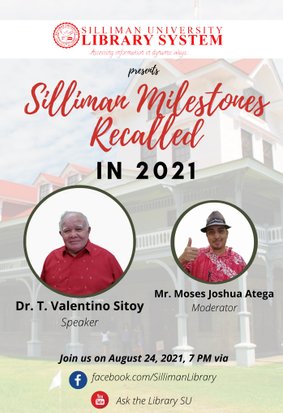 Online Extemporaneous Speaking Contest
In Celebration of the National Book Week
Miss Silliman - Through the Years, 1946-2020
"Silliman Milestones Recalled in 2021"
Dr. T. Valentino Sitoy.
SU Virtual Library Resources & Facilities
Acting University Librarian's Welcome Message to a New School Year
SU Virtual ECD Library Storytelling: Scat the Cat with Teacher Glady Girasol
VLOG ON THE DIAMOND YEAR OF MISS SILLIMAN
The MISS SILLIMAN DIAMOND YEAR PHOTO EXHIBIT 1946-2021
with Miss Silliman 2021 Mayumi Marie Maghuyop
SILLIMAN MILESTONES RECALLED IN 2021
#SILLIMAN WITH SU LIBRARY SYSTEM
INTERNATIONAL YOUTH DAY 2002 CELEBRATION
INTERNATIONAL YOUTH DAY CELEBRATION in the American Corner Dumaguete in partnership with Gaba-an Youth Lead and the Negros Oriental League of Student Governments
VIBRANT, NEW SILLIMAN LIBRARY
DIGITAL MARKETING FOR LIBRARIES
SU LIBRO: LUMANG LIBRO MAY PAG-ASA PA SAYO
SU LIBRARY AT THE SU GYMNASIUM
Silliman Library is continuing our book donation program SU Libro, which started sometime in 2017.
Pressed by time because of the upcoming Library Transformation (library renovation), instead of the SU Library going to the communities and schools, we asked several school divisions, LGUs, and the Philippine Army to come, choose, and transport the books themselves, especially those that are in the hinterlands and don't have access to internet and no capacity to purchase them. We have received requests coming from the various schools of Sta. Catalina, Siaton, Bayawan, Bais, Tanjay, Sibulan, Dumaguete City, Guihulngan, Canlaon, and even Siquijor. These are free books for school and community libraries and not for personal use.
The number of books accumulated through the years from book donations as well from alumni and friends, with the intention that SU Library will also be the conduit for community donation. Added to these books for donation are multiple copies, which SU Library has already pre-selected for our active collection. We assure that the donated books we received have already been selected to be included in our collection by our librarians before deciding to give or donate them to our school recipients. Furthermore, these books that are for disposal/donation to other schools are donated by Mr. William Barry Thompson with multiple copies, SUAASC, SUAANC, various individual alumni, and some institutions, which as per checking, do not have any written agreement.
SU Library prides of its collection and resources, which are balanced, current, and relevant, in various formats, reflective of the academic priorities of the university and significant research studies in all areas of discipline offered at the university. Again, the books for donation are not part of our active collection.
As of this time, 30+ recipients are already in the queue since last week. This number of beneficiaries is already more than enough for the number of books available. SU Library will let the public know if we still have books left for other beneficiaries.
Also, Silliman faculty and students are made to choose and get books.