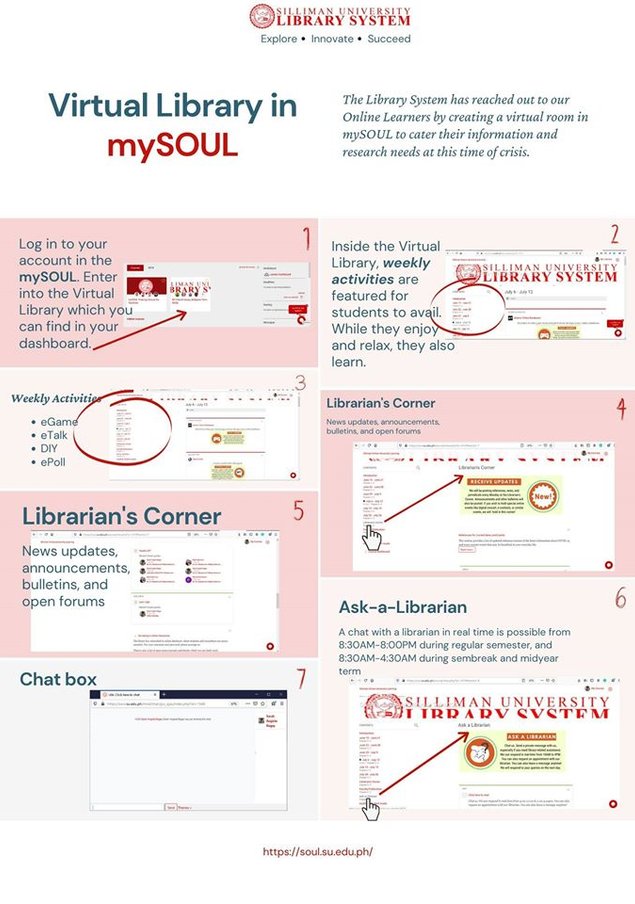 Facility, Gadget, Appointment
Online Public Access Catalog
Search our Library Collection
mySOUL Virtual Library in essence is about connectedness. During the pandemic, the library staff reinvent the library services in order to survive and thrive for the quest of quality education in higher institution. Provision of various online resources – a repository of knowledge to cater to the research and information needs of Silliman community as well as to remote clients are provided. Library virtual programming are also planned and slowly implemented to strengthen capacity and overcome adversity and envisioning a better future for Silliman University.
mySOUL Virtual Library may only be accessed to all bonafide students of Silliman University.
1. Only bonafide students and active teaching faculty can avail of the virtual reference services of the library.
2. Only Law, Medical, and Graduate students will be allowed to use the physical library. Proper protocol
must be observed (wearing of a mask, social distancing, hand washing, etc., as per the Inter-Agency Task
Force guidelines).
3. Students below 15 years old will be served in our virtual library.
4. The physical library is open at 8:00AM - 5:00PM, while our virtual library is available from
8:30AM - 7:00PM, from Monday to Friday, and 9:00AM - 2:00PM on Saturday.
5. Library customers are expected to observe proper netiquette at all times.
I. Chat and Short Messaging Service
The real-time answer depends on the type of queries lodge. The following are the nature of questions that can expect a real-time response.
A specific piece of information (examples: a fact, a date, spelling of a name), or verifying citations.

Suggestions for appropriate electronic of print resources to help find information for a project or research paper.

Help in constructing a research question and search strategy.

Assistance in the use of electronic resources and the systems through which they have access.
II. Email service
If the student needs assistance with her/his research, she/he can send her queries through email.

Expect reply to your question during physical library office hours.

An official university email must be used for the transaction. Kindly visit MIS for the activation of your email account
Electronic Document Delivery
1. When the resources needed is an electronic resource and is available in the databases, library customers can expect a real-time answer.
2. When the support required is an electronic format of the print materials available in the library. The following policies must be observed:
Access to an electronic copy of print materials will be provided via Google drive with VIEWER access

only.

Granting of access will automatically be given upon request. However, if the request for an electronic copy is made an hour before the closing of the physical library, and the book/s still needs to be scanned, the delivery of the document will be done on the following day.